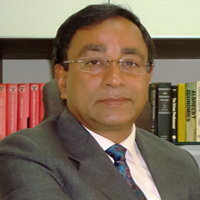 Prof. Kamlesh Misra was born in a small village of district Pratapgarh in Uttar Pradesh in a family of farmers. His early education was in Hindi medium in the village school. He started his convent education in the city of Mysore in 1965. After completing his Pre-University from Mysore he joined the Allahabad University from where he completed his B.Com and MA in Economics.
Prof. Kamlesh Misra after qualifying his IAS preliminary examination gave up a possible career and moved to United States of America in 1983 and completed his Ph.D in economics from Northeastern University, Boston and taught there as a lecturer until 1990. From 1991 to 1994 he served as an economist at the University Center Social and Urban Research, University of Pittsburgh, USA.
In mid-1994 Prof. Misra returned to India to join the National Institute for Public Finance and Policy, New Delhi as consultant and then as HDFC Associate Professor. As a member of the NIPFP team he provided technical advice and support to the 1st Punjab Finance Commission. In 1996 he received a grant from USAID to undergo advance training in Financial Management of Local and Regional Governments at Harvard University, Cambridge, USA.
Dr. Misra is a well-known strategist and innovative leader in conceiving, organizing and managing educational and research organizations. He combines in him qualities of vision, building, organizing, motivating and leading teams to perform at their peak level. He is regarded as a thoughtful leader and speaker on the formulation and implementation of corporate strategies, knowledge and innovation management. He has rich experience of creating and transforming institutions. He has special interest in turnaround and Greenfield projects in the field of higher education.
He served as the Founder Vice Chancellor at Auro University, Surat, Gujarat and Currently Dr. Misra holds the position of Vice Chancellor of Ansal University, Gurgaon.