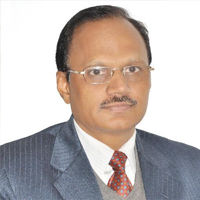 Educationist/ University Administrator Ansal University
Ranchi University, IIM, MDI New Delhi, Delhi, India
Around 24 years experience in education, academic planning and development,university administration & management.
Presently, Governing Body Member & Registrar at Ansal University.
Sr. Director EPA & member Academic Counci, O.P. Jindal Global University, Haryana.
Director, AIFF India (recognized MOS Govt. of India) Delhi.
Registrar, MITS University, Rajasthan.
Registrar, AID affiliated to GND University.
COE, ITM University, Gurgaon, Haryana.
Project Director, DMV Education Literacy Project , Delhi.
Hony.Chairman, HumanityTech India, New Delhi.
Hony.Co-Chairman, National Council on Education Assocham,New Delhi.
Hony. Advisor Education Council-International Organisation for Educational Development(IOED),
Delhi.
Governing Body member- Usha Martin University, Ranchi.
Hony.Director on Board, CMAI, New Delhi.
Hony.Advisor, Himalayan University, A P.
Governing Body Member Usha Martin University.
Hony Advisor, RNB Global University.
Hony.President,Renaissance-All India Art and Culture Development Association New Delhi.
Hony.President, ASSOED New Delhi.